One and One Makes Two or More: what partnership-based project is all about.
Reports from the government often paradoxically refer to the earthquake-affected regions in Tohoku as "a pioneering region in the emergence of ahead-of-its-time problems." Indeed, the region is facing challenges in tackling a diversity of problems that either were worsened by or surfaced after the earthquake. These are:
- demographic aging accelerated by the disaster;
- emergence of people who got separated from their families;
- growing concern for poverty and isolation surfaced after the disaster; and
- lack of stable jobs.
Trusting the resilience of assistance recipients and communities, seven local assistance organizations are squarely accepting the challenges in a progressive manner that was unthinkable before the disaster.
Prefectures of which organizations are active are Iwate, Miyagi and Fukushima in Tohoku. In order to promote supportive activities in Tohoku region, JEN aligned with these organizations and is backing them up with financial and technical assistance.
JEN is not simply a donor. Having shared a vision that "no one should not be left behind in efforts to rebuild the affected areas," JEN is deeply involved with these organizations in operation.
JEN helps them:
(1) plan their activities;
(2) monitor their progress and assess the results of their activities; and
(3) improve their capabilities to cope with challenges through custom-made trainings or building a network of contacts.

The lists of JEN partners.
JEN held a partner meeting in Ichinoseki, Iwate Prefecture on December 14th and 15th, 2016, bringing together all the partners for the first time and providing a workshop on how to run operations or organizations where they can share other partners' knowledge.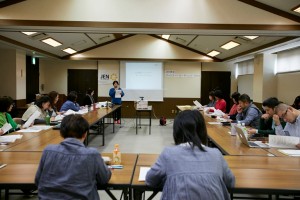 [The partner meeting brought together JEN's partners]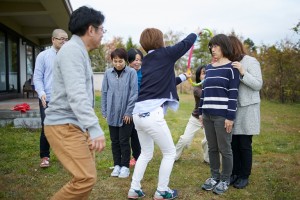 [They are squarely facing team-building]
Even if the assistance recipients of the partners are diverse, ranging from infants to the elderly, the partners are the same in that they seek to create a society where no one should be left behind in efforts to rebuild the affected areas.
They trust the resilience of the assistance recipients and communities. The participants of the workshop said:
"We could see possibilities to work with other organizations that have different perspective from us; we came to realize new challenges facing us." "Some projects appeared irrelevant to us at first, but I came to realize they also are trying not to leave anyone marginalized. Thus, it made us want to try harder. We are motivated."
We got some other opinions: JEN's involvement on the early planning stage helped us clarify the significance of our efforts, use an objective evaluation that looks at our results, and expand our cooperation with other organizations.
JEN partners with an organization in an effort to not only combine both performance (JEN+Partner=2) but also multiply the performance by many times until infinity, if possible (JEN+Partner=∞ infinity ).
This is achieved through coming up with necessary public services in order to realize a society where no one would not be left behind in efforts to rebuild the affected areas. JEN is committed to playing a role in helping the partnership function more synergistically.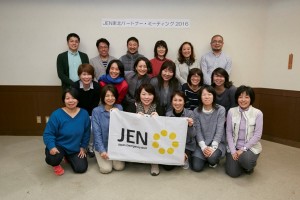 [A group photo of the participants]
【JEN is now asking for donations. Click here to donate】
December 22, 2016 in Tohoku Earthquake | Permalink