Moving on with the victims: JEN's New Effort
From the past experiences in Japan, it is said that there is an increase number of the victims who says that "the most depressing time comes three or four years after the disaster". It is also evidenced by the various psychological studies.
Walking in the devastated area makes us realize that the reconstruction has not been made a progress yet. The reconstruction in the central city has been done. But if we walk away from the city center, we see the bulldozers running in the devastated area by Tsunami.
【The coastal area in the suburb of Kamaishi city. People used to live here.】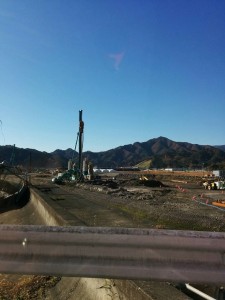 The soft aspect of the recovery tends to be missed compared to the hard one because of its difficulty to be found out. As more time has been passed since the disaster, the problems, which existed before such as the number of youths decreasing, nursing care, and poverty, have gotten worse.
Therefore, since October 2015, for the long-term solution in Iwate, Miyagi and Fukushima Prefectures, JEN has shifted from their previous approach as a direct assistance to the victims to a so-called "partnership" assistance with the local organizations, As for the partnership, JEN works not only for providing the necessary fund for their action but also for making plans together and providing a training to strengthen their ability to get things done and building networks.
Click here for more information on JEN's new efforts.
In Ishinomaki JEN has a partnership with the local organization "Nursing Care for Men". After the disaster, a lot of elderly couples are forced to live in their own, while being separated from their other family members. With the help of the medical and nursing experts, we are organizing a nursing care class for men to reduce women's distress from nursing the elderly men, and their isolation. It also aimed to encourage the quality of lives of both nursing and being nursed people.
【A partner organization in Ishinomaki, "Nursing Care for Men": JEN facilitated a workshop for making its project plan.】



We will continue to report our activities with the various organizations in the regions. Thank you for your help.



【JEN is now asking for donations. Click here to donate】
November 19, 2015 in Tohoku Earthquake | Permalink