Parent-and-child Hometown-rediscovery Class Starts
It is "Parent-and-child Hometown-rediscovery Class" that aims at providing parents and their children with an opportunity to feel refreshed in body and spirit beyond their daily routine through learning their hometown, Ishinomaki, in either indoor or outdoor classroom. Following last year's classes, this year's classes are for fourth through sixth graders at elementary schools in Ishinomaki and their parents. A series of six classes are scheduled to be given in the June-December period, and are going to be improved so that they may become rich and rewarding opportunities to learn and experience various futures of hometown Ishinomaki.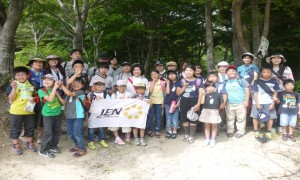 On June 28, based on the theme of "Mt. Makiyama hiking trip and photo class", the first class was held for twelve families of twenty nine parents and their children. First offered was a photography class in a parking lot at the foot of Mt. Makiyama. Every children being handed out an instant camera, they learned the basics of photography from how to advance and rewind films to how to take photos. Although instant cameras are familiar to parent's generation, most of the children have never seen them before and so they showed a strained look on their faces at first. When they were encouraged to take the pictures of their parents first, however, the children seemed to relax a little after they began shooting, the class being full of smiling faces and lively conversations at last.


On the natural trail up to Hitsujisaki shrine sitting on the top of Mt. Makiyama, Mr. Seiji Henmi, a native historian who accompanied them, told them "From what time human began living in Ishinomaki", "a legend about Maki clan that gave Makiyama its name", and so on. They were amazed by his explanation that humans in early times were living in mountain areas because sea level was 5-6 meters higher than it is now when humans began living in Ishinomaki. Finding insects and plants that they usually don't see, they enjoyed talking with each other and they had a look of real pleasure without even noticing.


The natural trail leading to an athletic facility, the children dashed to it with not much time being wasted on lunch. The parents seemed to get refreshed, above all else, by seeing their children joyfully playing.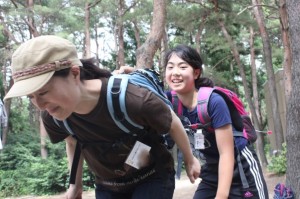 JEN will hold classes on fishing, camping on a remote island, cooking, and so on down the road. JEN is committed to working on providing those parents and their children in disaster-stricken areas who are facing many challenges with rewarding time in which they can deepen their bonds while rediscovering their hometown Ishinomaki.
====For urgent donation…↓↓↓↓↓↓

○Postal transfer account No.: 00170-2-538657
Account holder: JEN
Please write "Tohoku Earthquake" on the liaison column.

○Credit card: http://bit.ly/c7R8iA
Please select "Tohoku Earthquake" from the pull-down.
For any inquiries regarding bank transfers, please contact Tomita or Asakawa in JEN Tokyo Office at 03-5225-9352
August 7, 2014 in Tohoku earthquake | Permalink